I love it.
Jaxon loves it.
Dren has even shown an interest.
The typewriter is loud, proud, and on display.
It looks cool, and it works.

It was interesting putting my layout through it after adhering the photo and getting it somewhat smunched up. But since the writing is about how I'm a messy girl anyway, I figured I would just bend it the other way and smooth out some of the crease-ness and go for it. It will be experimental, just like the topic of this page was. I'm definitely going to start this experiment on a regular basis. Asking someone what their favourite thing about you is. Your husband might tell you something predictable. Your kids might say something funny. Your friends (depending on how well you know them) might say something surprising or just really nice (hopefully, if they want to keep you as a friend). I loved this because it's interesting as an experiment and it's self-affirming, and that always feels good. Affirmations people. Important stuff.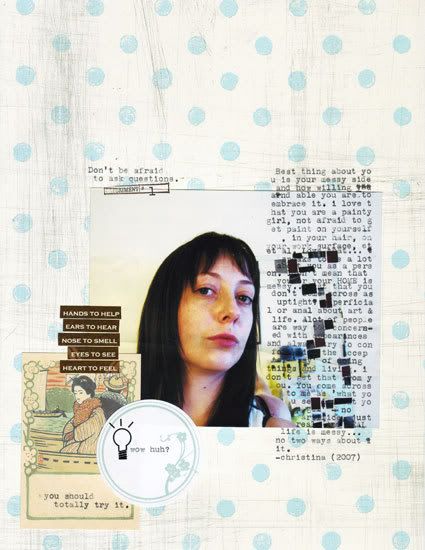 Me & my babe have a date tonight. We're going out for dinner downtown, gonna drink coffees and window shop Robson St. I might make him play Monopoly, or maybe even kick his ass at Tetris on the XBox. That would be fun. And Jaxon? He's staying over at my sister's for the first time ever. Wish us luck that we don't see him until tomorrow. As much as I'll miss him and all.

Reading this about my paper makes me really really happy.

Happy Friday my loves!

Oh, and PS (that's K's phrase but I'm thieving it from her because I love it and I think she loves me enough to let me)...I played with my paper last night for the first time ever. It's bizarre and thrilling all at the same time. Can't wait to share more.